Crazy Pixel Apocalypse 3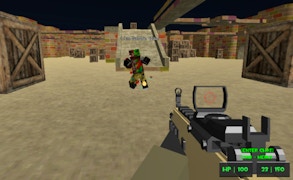 Crazy Pixel Apocalypse 3
Welcome to the chaos and fun of Crazy Pixel Apocalypse 3, an extraordinary instalment in the pantheon of epic pixel games, gun games, and survival games. This variant propels you into a world where you can compete against other players across the global arena, as well as against computer characters and ravenous zombies.
Your quest for survival goes beyond just navigating through complex mazes or the typical run-and-gun race. The game offers a unique blend of battle games and war games, where every corner could mean an ambush from an enemy sniper or trigger a sudden zombie outbreak - a feature that truly singles out Crazy Pixel Apocalypse 3 from the pack of conventional sniper games.
The gameplay is exceptional, immersive and filled with adrenaline. Travelling through pixelated landscapes will bring a sense of nostalgia for old-school gamers, while simultaneously offering thrilling new experiences for newer players. This is not your typical zombie game - it's a dynamic madness wrapped in strategically crafted chaos, designed to test your wits at every turn.
In terms of graphics, Crazy Pixel Apocalypse 3 stands out among other pixel games. The developers have succeeded in crafting an immersive environment that absorbs you into its pixelated world. The fluidity of movements combined with high-quality pixel graphics make it a visually appealing experience. From the attention-grabbing landscapes to the fascinating character designs, every detail in this game is carefully thought out and beautifully executed.
The sound design is also praiseworthy. The roar of gunshots and the terrifying moans of zombies create an intense atmosphere that keeps you on your toes. In conclusion, if you're looking for a new gem in the realm of shooting games or survival games that caters to both classic and modern tastes, then Crazy Pixel Apocalypse 3 is undoubtedly worth checking out!
What are the best online games?