Crazy Cameraman Skibidi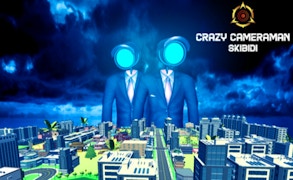 Crazy Cameraman Skibidi
Imagine being a freshly recruited mercenary, hired by the enigmatic figure G-Man. Your mission? To obliterate every Cameraman in sight! Welcome to the chaotic and thrilling world of Crazy Cameraman Skibidi, a captivating first-person-shooter that's sure to captivate gun game enthusiasts.
This game transports players into the madcap Skibidi Toilet Series universe with its wickedly unconventional storyline and vivid, immersive graphics. As a player, you're immersed in an epic battle against tricky cameramen armed with special attacks. A single lapse in focus can be fatal, making each level an adrenaline-infused experience.
Moving beyond the typical gun games, Crazy Cameraman Skibidi challenges players to strategize and adapt, rather than simply relying on trigger reflexes. The Cameramen aren't just your typical humanoid drones either—they're intelligent, crafty, and incredibly unpredictable. They pop up from unexpected angles and use their special attacks to keep you on your toes.
The exhilaration of victory after outsmarting a swarm of Cameramen is unparalleled—making this game not just about shooting, but also about tactics. The satisfaction of completing G-Man's missions is truly something to strive for, no matter how arduous the task might seem. This level of complexity significantly elevates Crazy Cameraman Skibidi above other run-of-the-mill shooting games.
In conclusion, if you're a fan of first-person shooters or are simply looking for something a bit different in your gaming repertoire, Crazy Cameraman Skibidi is worth checking out. With its eccentric storyline based on the Skibidi Toilet Series, immersive gameplay mechanics and challenging tasks set by G-Man—it's unquestionably a wild ride that will keep you coming back for more.
What are the best online games?