Crazy Bomber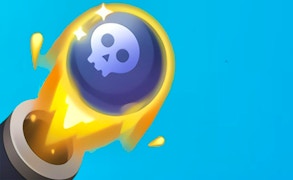 Crazy Bomber
If dynamite action is your adrenaline fuel, then you're bound to get wrapped up in the world of Crazy Bomber. This game falls under the action genre, specifically within the gun games, battle games, and stickman games categories. It is an exhilarating ride that fuses strategy, agility, and firepower in one compelling package.
The premise of Crazy Bomber revolves around launching various types of shells to obliterate obstacles and enemies alike. The game is not merely about chaotic explosion sequences but requires strategic gameplay to ace levels. It's a novel spin on traditional battle games, pushing players to perfect their firing skills while challenging their strategies.
In addition to its riveting gameplay, what sets Crazy Bomber apart is its super battery feature, allowing players to unlock powerful shells for future battles. These super-charged projectiles add a layer of intensity and suspense to the otherwise traditional stickman action gameplay. Mastering their use will undoubtedly yield satisfying results as you plough through hordes of enemies with ease, making it an essential upgrade in this high-octane game.
Crazy Bomber's gameplay diversity will engage you in numerous interesting mini-games, each offering unique challenges and rewards. Whether it's mowing down waves of foes or fine-tuning your shell-firing skills, these mini-games provide fun diversions from the main campaign.
In conclusion, Crazy Bomber serves up a gripping mix of action and strategy that lives up to its name—a veritable explosion of fun for fans of gun games, battle games, and stickman games. Brush up on your bombing skills and get ready to blast through some seriously crazy combat!
What are the best online games?