Cowboy vs Skibidi Toilets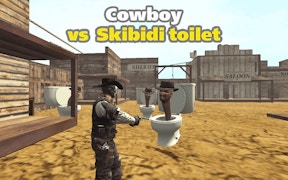 Cowboy vs Skibidi Toilets
Brace yourself for an audacious foray into the wild west with the shooting game, Cowboy vs Skibidi Toilets. This is not your typical run-of-the-mill gun game. It's as fierce as it is funky, pairing rugged cowboy charm with an unconventional enemy- the skibidi toilets.
For those seeking a unique twist on conventional battle games, Cowboy vs Skibidi Toilets more than delivers. It's a thrilling ride from start to finish, where every round feels like a high-stakes duel under the scorching desert sun.
Unleash your inner cowboy and tap into survival instincts you never knew you had. You'll need them to survive each intense round. But don't worry, you're not left unarmed in this toilet onslaught. In your arsenal, there's a variety of guns to unlock as you progress, adding a tactical edge and replayability value to the game.
Aiming and shooting have never been this fun and frenzied in any other gun game. The themed settings, character designs, and weapons are all meticulously detailed with an unmistakable wild west flare. Whether you're a fan of battle games or just in for some offbeat fun, Cowboy vs Skibidi Toilets offers an unforgettable gaming experience.
In conclusion, Cowboy vs Skibidi Toilets is a triumphant fusion of traditional shootout mechanics with an irreverently fresh twist. It's certainly one of those shooting games that will keep you on your toes - or rather - boots!
What are the best online games?