ChasingHunters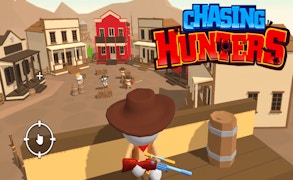 ChasingHunters
Welcome to my review of the exhilarating shooting game, ChasingHunters. This game brilliantly merges the worlds of gun-games, sniper-games, and hyper-casual-games, promising an immersive gameplay that is bound to keep you on the edge of your seat.
ChasingHunters throws you into a world where you are the hero, tasked with the crucial mission of defeating the bad guys. The blending of different genres is seamless, allowing for a unique experience. It's not just about being a trigger-happy gun enthusiast, but it also gives you a taste of being a disciplined and calculated sniper.
The game's key feature lies in its shooting mechanics. Each gun feels weighty and impactful. The sniper mode is all about precision and patience. It's not your run-of-the-mill point-and-shoot affair - a single miss could mean dire consequences for your mission.
The adversaries are cunning, strategizing their moves to outsmart you. You will have to become a sharpshooter and use your wits to emerge victorious in this intense battlefield. The graphics are top-notch, rendering everything from the weapons to the battlefield in high resolution.
In a sea of generic shooting games, ChasingHunters stands out with its distinct blend of action-packed gunplay and cerebral sniper strategies. This offering is not just another game in your library; it's an experience that pushes the boundaries of what we expect from hyper-casual games.
In conclusion, if you are searching for an engaging shooter game that offers more than just mindless shooting, then ChasingHunters should be your pick. It accomplishes its goal of merging thrilling gunplay with thoughtful sniper strategies, providing a gaming experience that is hard to put down.
What are the best online games?