Skibidi Vs Alien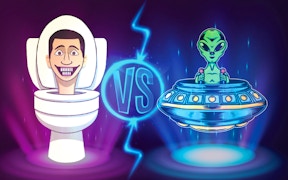 Skibidi Vs Alien
Description
Embark on an adventurous journey with Skibidi Vs. Alien, an exciting endless runner game. As the young alien Skibidi, your mission is to dance through treacherous levels, challenging your reflexes and skills against invading evil aliens. The gameplay features a blend of jumps and slides, assuring excitement in every tap. With escalating level difficulties and power-ups scattered along the way, survival becomes increasingly challenging and engaging.
How to play
In Skibidi Vs. Alien, controlling the character is straightforward - tap on the screen to make Skibidi jump and slide as he dances through the levels. Maneuver around obstacles and enemies, making sure to collect power-ups that aid in survival. Your progression relies heavily on your skill to control Skibidi accurately while maintaining the rhythm of his dance.
Tips and Tricks
An important strategy is mastering the art of combining jumps and slides for efficient dodging of enemies and obstacles. Additionally, don't miss out on collecting power-ups; they significantly increase your chances of survival as levels get more complex. Lastly, keep practicing; playing consistently will greatly enhance your skills over time.
Features
Casual gameplay that's easy to learn but tough to master.
Endless runner game styled with rhythmic dancing movements.
Progressively intensifying level difficulty for long-lasting engagement.
A variety of power-ups available for strategic advantage.
What are the best online games?