Dead Aim Skibidi Toilets Attack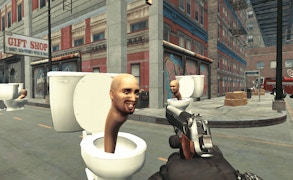 Dead Aim Skibidi Toilets Attack
Step into the shoes of a special forces soldier with Dead Aim: Skibidi Toilets Attack, a unique blend of gun-games and battle-games. This top-tier first-person-shooter throws you into the heart of a city overrun by rogue skibidi toilets. Armed with ten different types of weapons, you'll need to rely on your quick reflexes and shooting skills to survive.
What sets Dead Aim: Skibidi Toilets apart in the saturated FPS genre is its unique enemy - skibidi toilets. These aren't your regular bathroom fixtures; they're hostile, relentless, and they won't stop until you're out of the game. The strange choice of enemies ensures a dose of humor injected into each tension-filled fight, making this game a refreshing twist in the typically serious shooting-game realm.
The weaponry is another standout feature in Dead Aim: Skibidi Toilets Attack. From traditional firearms to more unconventional options, there's a weapon for every playstyle. Whether you prefer the rapid-fire action of an SMG or the precise shot of a sniper rifle, each gun offers a unique experience enticing to any battle-game lover.
The urban environment adds another layer of strategy as skyscrapers and city streets become your battleground. Dodge behind cars, take cover behind dumpsters, or snipe from rooftops as you strategize your way around these combat-ready toilets.
In conclusion, Dead Aim: Skibidi Toilets Attack isn't just another shooting game—it's an innovative blend of humor, strategy, and pure shooting fun that will keep you coming back for more. Whether you're a veteran FPS player or looking for something new to try in the gun-game world, this game is an absolute must-play.
What are the best online games?