Cowboy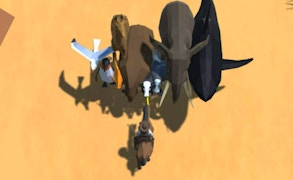 Cowboy
If the wild west and lasso-throwing extravaganzas tickle your adventurous spirit, you'll find the Action game genre offering Cowboy as an enticing catch. Designed for those with a love for animal games, this title masterfully blends the thrills of hunting games with the strategy of Skill Games.
The game rides high on its unique premise - a flamboyant cowboy making use of his trusty rope to round up runaway animals. The objective is as simple as it is thrilling - catch as many animals for our cowboy to bring back home!
The exhilarating pace and dynamic gameplay make Cowboy stand out in the crowded landscape of action games. It perfectly captures the essence of a thrilling chase and the satisfying victory of a successful hunt. So sharpen your virtual lasso skills, saddle up, and get ready to bring those critters home!
Cowboy fits snugly in the realm of < b >animal games </ b >. From fleet-footed foxes to galloping gazelles, each animal brings its own challenges and rewards - making every hunt feel different and engaging. This immersive experience makes it one of the finest selections among both hunting and skill games.
The game's fantastic graphics mean every chase is vividly brought to life. Combining this with easy-to-master controls, Cowboy offers an animal game experience that is both visually stunning and highly intuitive.
If you crave a unique blend of action, strategy, hunting, and animal-centric gameplay, then look no further than < b >Cowboy </ b >! This adrenaline-fueled chase will keep you on your toes while testing your skills in one thrilling hunt after another.
What are the best online games?