Counter City Strike Commando Action 2020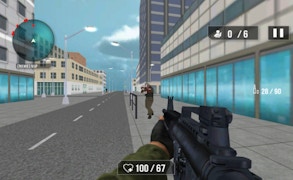 Counter City Strike Commando Action 2020
Are you thirsting for some heart-pounding action in your gaming life? Look no further than the Counter City Strike Commando Action 2020, a game that is sure to satisfy your hankering for endless thrills and chills. The adrenaline rush you get from this shooting game makes it one of the most exciting gun games out on the market right now.
Dive headfirst into this gripping man versus world scenario, a hallmark of notable survival games. With danger lurking around every corner, each mission becomes a thrilling exploration of your own abilities and nerve. Your mettle will be tested, your senses heightened - when survival is the only victory, every shot counts.
In Counter City Strike Commando Action 2020, not only will you engage in pulse-racing battle scenarios reminiscent of epic battle games, but you will also find yourself in the midst of urban warfare like none other. The game is set amidst towering skyscrapers and bustling streets, tactically designed to offer an immersive experience.
You seek the thrill of the chase? Fancy yourself a sharpshooter? You're in luck. Boasting some of the most realistic sniping mechanics and environments found in any of today's sniper games, you'll feel every heartbeat and breath as you zero in on your target.
Counter City Strike Commando Action 2020, with its spectacular graphics, smooth controls, and well-crafted gameplay narrative, packs stunning realism into each frame. It's more than just a game; it's an exercise in survival instinct submerged in an environment that screams danger from every angle.
This isn't just another addition to the slew of generic war games. Each battle scenario tests not just your tactical acumen but also pushes your decision-making skills to its limits.
In short, if high-risk action that keeps you on edge is what gets your blood pumping, then Counter City Strike Commando Action 2020 should absolutely be on your radar!
What are the best online games?