Corporate Overlord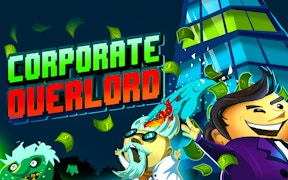 Corporate Overlord
Welcome to an exhilarating journey into the buzzing world of Corporate Overlord, a gem among strategy games which merges the elements of idle games, clicker games, management games, tycoon games, and simulator games. Not forgetting, it is also wrapped in the addicting thrill of money games.
Avoid the commonplace. With Corporate Overlord, instead of battling fiends or saving the world, you dive headfirst into corporate greed. You are tasked to build your dark empire, amass incalculable wealth, deploy strategies and ultimately dominate the world as an omnipotent tycoon. The game lifts you out from mundane reality into a realm where your wildest, most ambitious dreams come true.
In your quest for corporate dominance, your arsenal includes mind-bending structures such as quantum supercomputer labs and chemical labs. Equally intriguing is the extensive research part of this game - from little spy drones shadowing competitors, to instant freezers chilling yout profits, to droids klaxoning efficiency and even zombie servants mauling mundane chores.
The twist in this tale is not just about making money though. A good tycoon must also be a good manager! Enter Disaster Events: moments that test your mettle and management skills. These events coupled with managing your stress levels add an unexpected layer of excitement and realism to the game.
The appeal of Corporate Overlord goes beyond its exceptional gameplay, it's a fascinating blend of different gaming genres with a unique theme that is sure to enthrall gamers looking for something outside the traditional box. Step into those shiny black shoes and take on the role of an unapologetic corporate overlord!
What are the best online games?