Control Mob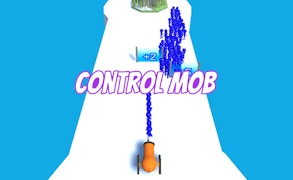 Control Mob
Description
In Control Mob, you are tasked with amassing a huge crowd by launching your followers into multiplier gates. However, beware! There are rival crowds out there who will attempt to sabotage your fun. Dodge the red gates and make sure to push back against the red crowd who aims to take over your bases. Test your strategic skills in this dynamic action game and become the biggest mob!
How to play
To play Control Mob, simply click or tap to launch your followers into the multiplier gates, which will increase your numbers. Avoid running into red gates or engaging with the red crowd. The more bases you acquire, the higher your score gets. As you progress through the game, you'll encounter bigger challenges that will test your quick-thinking skills.
Tips and Tricks
Be strategic when launching followers into multiplier gates, as it's crucial for growing your crowd quicker. Always keep an eye out for red crowds and avoid confrontation until your numbers are strong enough. Remember, capturing bases is key to progressing, so focus on that to keep scoring higher.
Features
A fantastic strategy-action hybrid game.
Addictive game mechanics that challenge your decision-making skills.
Vibrant visuals and dynamic gameplay keep things energetic and entertaining.
Increasing difficulty levels offer never-ending fun.
What are the best online games?