Confront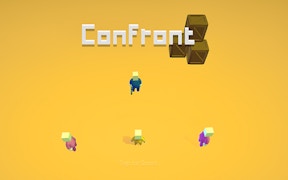 Confront
Ever craved to explore an adrenaline-rushing world where the thrill of gun games meets the mental acumen required by skill games? Welcome to Confront, a heart-pounding game that plunges you into an immersive universe brimming with chaos and opportunity.
The narrative of Confront is simplistic yet enticing. The game hands you a gun and throws a slew of ferocious enemies at you. Relying on the motto, 'Aim, Shoot, Repeat', your mission is 'Survival'. But remember, this isn't just a mindless shooting spree. It's quintessentially one of the most captivating sniper games out there that require plenty of strategy and precision.
The moment you boot up the game, you'll notice how Confront is not your regular run-of-the-mill shooting game. Here, not only does time seem to stop but you'll also have the liberty to rotate rapidly for those killer shots. The smooth control enhances its gameplay tremendously. And it's not just about 'guns blazing'; it's about perfect timing, quick reflexes and accurate aiming.
The aesthetics pull off that perfect balance between realism and fantasy, creating an incredibly engaging environment that keeps you hooked to the screen from start to finish. The tension runs high and your survival instincts are truly tested in this fast-paced thriller.
In short, Confront offers an intense gaming experience that brilliantly combines elements from gun games and sniper games with skill-based mechanics baked right in. Whether you're a seasoned gamer or a newbie looking for some nail-biting action, Confront promises endless hours of excitement and fun!
This isn't just another game; it's an all-out war where victory belongs to those with nerves of steel!
Finally, if you're someone who loves shooting games fused with strategic elements then Confront is undoubtedly worth checking out!
What are the best online games?