Commando Sniper: CS War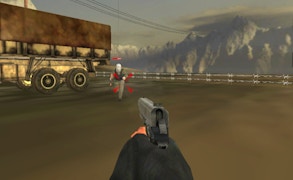 Commando Sniper: CS War
Step into the combat boots of an elite marksman in Commando Sniper: CS War, a gripping entry in the gun games and sniper games genre that combines high-octane action with strategic planning. Delivering an authentic military experience, this game offers players a first-hand taste of life on the battlegrounds.
The game takes you deep into enemy lines as a daring commando with a task to nullify threats and reclaim lost battlefields. The thrill of the ravaging battle games and tension-filled survival games are encapsulated in CS War's adrenaline-charged missions. Each level ratchets up the complexity, forcing players to adapt to evolving warfare scenarios. From navigating stealth missions against formidable forces to leading deadly strikes in enemy territory, your decisions can either secure victory or spell doom for your squad.
The solid story, well-executed mechanics, and challenging AI make this game a standout within modern army-themed war games. Its stunning graphics plunge gamers into heart-pounding actions that blur the lines between virtual and reality. Whether you're dodging bullets in close-quarters combat or picking off targets from a concealed spot, the game's superior physics provides an arena of heightened realism.
In summary, Commando Sniper: CS War is more than just another shooting game—it's a tactical symphony of destruction that immerses gamers fully into its relentless world of modern warfare. Its intense gameplay coupled with strategical elements clearly asserts it as a must-play for lovers of gun games, sniper games, war games, battle games, and survival games.
What are the best online games?