Commander Assault Duty 2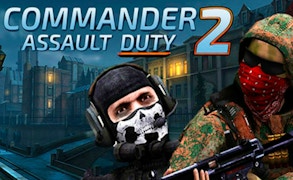 Commander Assault Duty 2
Prepare to take command in the battlefield with Commander Assault Duty 2, a game that truly takes the crown in the realms of war games, battle games and gun games. Combining the thrill of survival games with the precision required in sniper games, Commander Assault Duty 2 delivers an exhilarating, adrenalin-infused gaming experience.
As part of the elite paramilitary team, SPEAR, your mission is noble: stop an escalating global conflict and restore peace. You're not merely playing a game; you are defending freedom against a rising tide of terror. This enriched narrative gives players an affinity for their mission beyond just aiming and shooting.
The game's battle scenes are a master class of chaos and explosiveness. Whether taking down enemies in open warfare or executing stealth operations as a lone sniper, Commander Assault Duty 2 puts you right in the heart of the action. A true standout among war games and battle games!
CAD 2 excels in its weaponry arsenal as well. From standard assault rifles to high-powered sniper rifles, every gun in this game feels realistic and impactful. The weaponry detail puts CAD 2 amongst not only top war games but also rivaling those purely dedicated gun games and sniper games.
A potent mix of relentless warfare, tactical decision-making and gritty survival elements make Commander Assault Duty 2 an unforgettable addition to any gamer's collection – a beacon among survival games where your tactics truly influence your survival.
In summary,
Commander Assault Duty 2
delivers a masterful mix of war, gunfighting, sniping and survival making it an absolute must-play for any fan of war games, battle games or simply thrilling gameplay. It is indeed much more than just another game; it's a call to arms!
What are the best online games?