Combat Zombie Warfare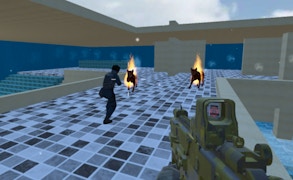 Combat Zombie Warfare
Step right into a haunting dystopia in the thrilling shooter game, Combat Zombie Warfare. An unconventional blend of gun games, sniper games, and zombie games, this title is perfect for those yearning for heart-pumping, adrenaline-filled gaming sessions.
Combat Zombie Warfare drops you into a gripping narrative amidst a global apocalypse. Your enemies? A horrifying mix of both undead horde and ruthless soldiers. The stakes have never been higher in the world of war games.
The arsenal at your disposal makes every other shooting game look like child's play. From reliable snipers for those who love the thrill of sniper games, icy precision to high-powered machine guns that'll make any lover of gun games squeal with delight, Combat Zombie Warfare satisfies players with various play styles.
This game isn't just about survival; it's about mastery and triumph over apocalypse. It demands adaptability, as the gameplay continuously shifts from being a typical survival game to becoming an intensive massacre more akin to some of your favorite battle games.
In Combat Zombie Warfare, every map you traverse is your battleground, each one diverse and brimming with possibilities. As you journey through these desolate landscapes, the line between man and monster blurs, making it more than just another run-of-the-mill selection among countless other zombie or battle games.
The campaign levels provide a challenging grind that rewards persistence, and the online multiplayer mode adds another layer of competitive edge as you face off against real players worldwide.
In conclusion, whether you're looking for your next addiction or simply wanting to dip your toes in the still-thriving genre of zombie warfare, Combat Zombie Warfare is an experience like no other.
What are the best online games?