Clicker Heroes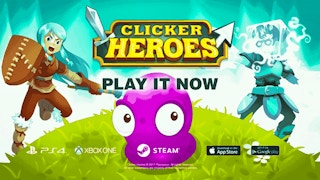 Clicker Heroes
Have you ever stopped to wonder just how much clicking you do on a daily basis? Well, this number is going to go up exponentially if you go on the Clicker Heroes adventure. This idle game takes you to a cartoon fantasy world where you'll be fighting all sorts of monsters from angry plants to angry animals to angry insert-noun-here. The point of the game is to make you feel like a monster hunter since you'll be doing the majority of the fighting. The other heroes can help you take down monsters in your downtime, but they're supporting you from behind the scenes while you take charge.
About Clicker Heroes
The thing about clicking is that it's addictive because it's quick, repetitive, and doesn't require a lot of thought. I'm sure many of us have clicked on things without even realizing it and this game provides an outlet for all those clicks. The monsters are the most eye-catching part of the screen as they bounce and plague the different lands with their monster-ness. By clicking and gaining the help of other adventurers, you may one day make this clickable fantasy land safe for others to roam and click in relative safety. It will be a long road though and there's no harm in asking for help.
How to Play
Clicker Heroes is a 2D idle clicker game about slaying monsters using the mouse. Navigate the UI using the cursor and select the current monster by moving over it. To attack the monster, just click on them as fast as you can. The goal is to complete each area by clearing out all the monsters. The number of monsters you need to defeat is shown above the current monsters. You'll occasionally fight a boss monster that has a lot of health and a time limit to defeat it before you can move on.

Your main attack is clicking and there are things you can do to improve it. As you upgrade your clicking, you can eventually unlock abilities that will appear in a column to the right of the upgrade menu. From the menu on the left side, you can see a list of available heroes and adventurers that you can hire provided that you have enough gold. The more heroes you hire, the more damage you'll do via clicking while others will attack automatically when you're idle. You earn gold by slaying monsters and the more you earn, the more heroes will become available for you to hire. You can also spend gold to level up each hero in order to make them more effective.
You can also earn Gem and visit the Shop that's below the monster location. Here is where you can spend Gems (or buy more Gems) to buy upgrades like Auto Clickers and Damage Multipliers.

Tips and Tricks
Unlike other clicking games, this one proves to be more resilient in that your standard clicking starts off pretty weak. You can click as fast as you want, but upgrade your click damage as soon as you can otherwise it'll be like chipping away at a wall with a toothpick.

Game Details
Developer: Playsaurus
Platforms: Web Browser (PC and mobile), iOS, and Android
Languages: English, Spanish, French, Portuguese, German, Dutch, Czech, Polish, Turkish, Arabic, Japanese, Chinese, Korean, Indonesian, Vietnamese, and Russian.

Gameplay Footage
FAQs
Is Clicker Heroes free?
The game as it currently stands is free to play and download on all of its available platforms, but certain versions can include in-game transactions to bolster your progress.
Why is Clicker Heroes 2 not free?
Having been released in 2018, the sequel came with a price tag that those behind it said was applied for "ethical reasons". It's still available for purchase across various platforms and devices.

Games similar to Clicker Heroes
With everything that it puts right on the surface, this game fits into the Clicker and Idle Games categories on GamePix. It can be found among other titles like Dig It, Castle Defense, Merge Car, and Idle Ants.
What are the best online games?