Clash of Warlord Orcs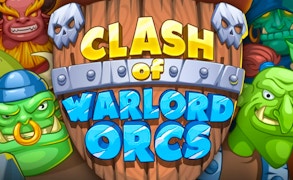 Clash of Warlord Orcs
If you're a fan of battle games, war games, and monster games, you're bound to find yourself drawn into the fast-paced, strategy-driven world of Clash of Warlord Orcs. Allowing you to live the thrills of an epic battlefield in the palm of your hands, it's a game that will keep you hooked for hours on end.
As with many sword games and archery games, Clash of Warlord Orcs gives you three minutes to outsmart and defeat your enemy orc. However, rather than just about brute force, this game introduces an impressive layer of strategy with its unique card system. The variety of orc-inspired cards to choose from – each representing different types of units such as infantry, ranged, cavaliers, and heavy hitters – will have the gears in your brain constantly working.
The game doesn't stop there though. It ups the ante by also including special cards for heroes and spells that bring additional layers of complexity and depth to your battle strategies. With so many combinations possible with these card decks, every battle is a fresh experience.
Apart from the excitement in every battle, Clash of Warlord Orcs is also a test of your management skills. You have to decide which cards are right for each enemy encounter, requiring quick thinking and decision making under pressure.
In summary, Clash of Warlord Orcs is a thrilling blend of speed, strategy, and sword-swinging action that offers endless replay value. Whether you're passionate about war games or simply looking for a fun mobile game to sink some time into; if strategic battles and fantastical orcs float your boat - then this is one heck of a game not to be missed!
What are the best online games?