Clash of Skulls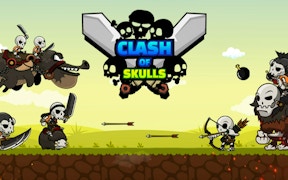 Clash of Skulls
Immerse yourself in a realm where strategy, fantasy, and victory unite in the captivating universe of Clash of Skulls. Ranking high in both the battle games and Management Games category, it's not just a game; it's a test of your tactical prowess and decision-making skills under pressure.
This real-time strategy game hooks you with an objective that is as straightforward as it is challenging - destroy the opponent base. But herein lies the beauty of this game; its simplicity masks an intricate weave of strategy that will demand your every wit. Will you opt for brute force or cunning subterfuge? The answer lies in your hands, or rather, the skulls.
The true essence of Clash of Skulls lies in its units deployment aspect. Every skull you deploy is a unique piece on this violent chessboard, each boasting unique abilities and strengths. The challenge? Trying different combinations to create an effective attack force. This isn't just one of those regular monster games; it's about unleashing your inner tactician.
Picking the right units at the right time isn't merely suggested; it's demanded for victory. Every choice you make in this battlefield could spell triumph or disaster. The adrenaline rush that comes from orchestrating a successful attack is simply unmatched. But remember, with great power comes great responsibility - and in Clash of Skulls, that responsibility is to protect your base at all costs.
So, are you ready for a strategic adventure wrapped up in monstrous mayhem? Clash of Skulls awaits those brave enough to plunge into its thrilling depths and emerge victorious. Good luck on your journey through this captivating game that truly embodies what battle and management games should be - challenging, exciting, and utterly addictive.
What are the best online games?