Clash of Armour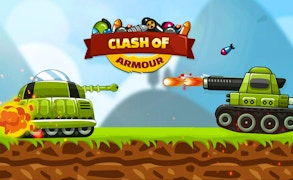 Clash of Armour
Step into the fiery battlegrounds with Clash of Armour, one of the most intense action-packed tank games ever conceived. This real-time strategy game elevates war games to an entirely new level, setting the stage for epic conflicts and fatal 2-player face-offs. Feel your heart race as you strategize and fight to obliterate your enemies in this all-consuming warfare.
Clash of Armour isn't just about firepower; it brings your strategic prowess out onto the battlefield. Each tank, each unit has its own unique strengths and weaknesses, demanding players to intelligently strategize their attacks. The game consistently keeps you on edge, with the anticipation of what your opponent will deploy next - turning it into one of those addictive battle games that you can't help but come back to.
The objective here is straightforward yet thrilling: destroy the enemy's defense by deploying your armour units efficiently and timely. However, remember - this isn't a game that crowns the trigger-happy. It rewards those who plan their moves meticulously, choose their units wisely and strike at just the right moment.
This is not just a game; it's a warfare simulator that tests your mind as much as it tests your might. So put on your battle gear, commandeer your tank and march into the war-zones of Clash of Armour. Good luck warriors; may the best strategist win!
If you're a fan of 2 player games, or if relentless action-packed tank warfare excites you - then let Clash of Armour whisk you away into its world of strategic battles. It's time for action, gamers! Join in now and experience heart-pounding battles like never before!
What are the best online games?