City Traffic Control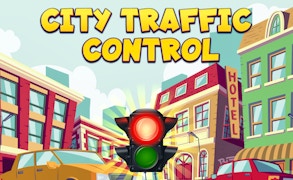 City Traffic Control
Description
In City Traffic Control, you'll step in the shoes of a traffic manager, tasked to preserve the flow of vehicles in a bustling metropolis. With a diverse chain of cars, each possessing unique speed and durability characteristics, your challenge lies in avoiding collisions while ensuring each car reaches its destination promptly. The swiftness of your action correlates with the points you garner, so keep the wheels moving!
How to play
You make use of the mouse and keyboard to guide vehicles on their routes. Be quick to adjust speeds without causing accidents. The level starts with a particular time limit to reach from one end of the city to another. Each successful delivery boosts your score; however, collisions lead to a level restart.
Tips and Tricks
Focus on maintaining a perfect balance between the speed and safety of vehicles for maximum points. Avoid reckless speeding as it might lead to crashes. Cleverly steer your chosen vehicle considering its speed, durability, and cargo handling capacity.
Features
A variety of unique cars with diverse features.
Bonus points awarded for quick level completion.
A dynamic cityscape that challenges your traffic control skills.
No traffic rules, giving you complete freedom as you navigate through the city.
What are the best online games?