State.io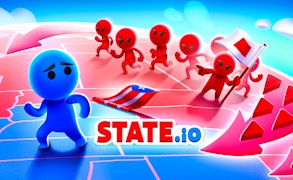 State.io
If you're an avid fan of battle games, war games, and brain games that challenge your strategic thinking, then State.io is a game perfectly catered to your taste. Let me tell you why.
State.io is not merely another addition to the vast sea of Io genre games. This game stands out with its authentic blend of strategy and puzzle-solving, solidly placing itself within the realms of both management and city building games as well. It's an abstract real-time strategy game set in a world that transforms into your personal battlefield where regions become chess pieces in your master plan.
As you commence this journey on State.io, you are immediately plunged into a thrilling tactical clash. The game's premise revolves around leading armies and engaging in epic battles to conquer countries. However, brute force won't win this war, it's your ability to solve intricate strategic puzzles that sets the stage for victory.
The best part about State.io is that it serves as both a thrilling war game and brain game. Your maneuvers have to be shrewd enough to outsmart opponents from across the globe.
In essence, State.io paints a panorama of grand strategies and cunning tactics wrapped up in an easy-to-understand 'dots' mechanic which gives it its unique flavor. Your job - claim territories, build cities, manage resources, plan strategies, outwit rivals - transforms you from being just a player into becoming the supreme commander.
The subtle brilliance of State.io rests on how it seamlessly morphs complex concepts such as territory acquisition and resource management into truly fun gameplay. It reinvents the traditional aspects of war games by giving them a modern twist.
To sum up my review - if strategic battles thrill you, if your pulse quickens at the thought of leading armies across continents to establish supremacy - then look no further than State.io! Embrace this immersive experience today!
What are the best online games?