City Siege 2: Resort Siege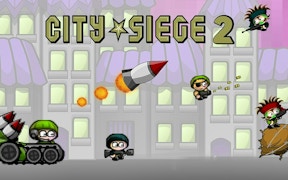 City Siege 2: Resort Siege
Prepare to reload, sharpshooters! It's time to take a crack at City Siege 2: Resort Siege, a standout title in the world of war games and gun games. This title brings the excitement of skill games right into your living room with an unparalleled sniper games experience, letting you unleash chaos from the shadows of palm trees and seaside resorts.
Just when you thought the battle was over, City Siege 2: Resort Siege pulls you right back in with a fresh onslaught of baddies determined to take over the beach. This isn't just another shooter game; it's a thrilling ensemble that merges strategy with raw fire-power. The new Spy, Transport 'Copter, and Veteran units add layers of depth to your tactics, keeping the gameplay refreshing and exciting.
The inclusion of tanks in the enemy ranks synonymous with war games turns up the heat. Adding helis and veterans, delivering varied gameplay moments that keep you on your edge. The battlefield has never felt more alive or more treacherous in gun games than it does in City Siege 2: Resort Siege. This is truly a test for all skill gamers out there!
This sniper game packs more levels, more destruction, and more challenges for players seeking an exhilarating mix of strategy and shooting. It's not just about pulling trigger; it's about planning your moves meticulously while wading through enemy lines.
Merge beachside R&R with explosively good times in City Siege 2: Resort Siege, a dynamic addition to your collection of war games, gun games, skill games, and sniper games. Let's see what you've got when it's not just high scores on stake but the safety of your vacation too!
What are the best online games?