Chrome Dino Run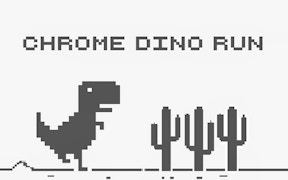 Chrome Dino Run
Prepare to go prehistoric with the latest addition to the realm of dinosaur games, Chrome Dino Run. Injecting old-school charm with its simplistic 8-bit aesthetic, this game will undoubtedly appeal to those who adore vintage pixel games. It's an adrenaline-pumping ride across infinite deserts, where the only thing standing between your dinosaur and its freedom are prickly cacti.
Chrome Dino Run falls into the beloved genre of running games. The beautifully crafted 8-bit dino is designed to run eternally in a pixelated desert, but it's not just about moving forward. The cacti that populate this desert aren't there for decoration; they're your enemy. Your goal is simple yet challenging - avoid these spiky hurdles at all costs.
For those who thrive on competition, Chrome Dino Run might just become your new addiction. Every cactus you nimbly jump over adds a point to your score, pushing you closer towards world domination - or at least bragging rights among your circle of friends. So get ready to prove yourself as the ultimate dino-runner and watch those high scores pile up!
This game also captures the essence of clicker games, with easy controls that players will instantly get hooked on. All it takes to make your dinosaur leap over obstacles is a quick click or tap, depending on your device. The simplicity of this mechanism opens up Chrome Dino Run to gamers of all ages and skill levels.
To conclude, Chrome Dino Run brilliantly combines elements from the realms of dinosaur games, clicker games, running games, and pixel games into one captivating package. It offers straightforward gameplay wrapped in an old-school shell that will keep you coming back for more. Start your infinite desert adventure now - let the Chrome Dino run begin!
What are the best online games?