Christmas Survival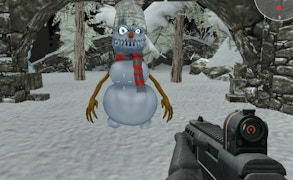 Christmas Survival
Immerse yourself in a frosty frag-fest with Christmas Survival, the ultimate addition to your Christmas games collection. Ideal for fans of top-tier shooting and battle games, this unique survival offering perfectly fuses the holiday spirit with adrenaline-pumping action.
If you've ever dreamed about taking up arms in a snowy battlefield, Christmas Survival is your chance. This game doesn't just bring the chill of winter to the usual gun games; it presents an arsenal of slick weapons and protective armor, all available at your fingertips via an easily navigable in-game shop. Whether aiming for stealthy headshots or cacophonous shootouts, both fans of sniper games and full-frontal combat will be well-served.
The graphics are crispy as a winter morning, highlighting the peculiar contrast between tranquil Christmas scenery and gun-blazing chaos. With its multitude of game modes, ranging from frantic multiplayer skirmishes to nail-biting single-player campaigns, Christmas Survival takes standard survival games to a whole new level. No matter if you're a lone wolf or prefer team-based warfare, there's no shortage of excitement here.
In conclusion, Christmas Survival is not just one of those dime-a-dozen shooting titles; it's a compelling fusion of holiday charm and bullet-riddled mayhem. It stands as a testament that Christmas games can deliver much more than cute elves and snowy landscapes - they can offer thrilling combat experiences too! This season, don't just count down the days until Christmas - count your ammunition in one of the fiercest battlefields gaming has to offer.
What are the best online games?