Christmas Lollipop 2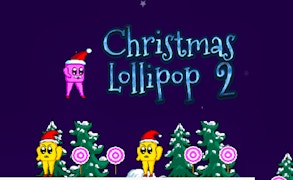 Christmas Lollipop 2
Description
In the delightful sequel, Christmas Lollipop 2, you venture on a holiday-themed 2D platform journey. The mission? Gather all lollipops scattered across 8 increasingly challenging levels while evading a variety of obstacles including foes, birds, saws, and spikes. Your final destination? The Exit door that paves your path to the succeeding level.
How to play
Movement controls are simple: use either "WASD" or "Arrow" keys for navigation. For attaining extra height or crossing larger gaps, a double jump comes in handy. Simply press "W" or "Up" arrow key twice and you'll be soaring through the air. The key to success is understanding your environment and executing controls timely.
Tips and Tricks
Succeeding in Christmas Lollipop 2 requires strategic timing of movements and jumps. Observe patterns in moving obstacles like birds and saws for better navigation. Don't forget to utilize the powerful double jump to overcome taller obstacles or large chasms.
Features
Festive theme: Perfect for holiday season gaming!
Diverse obstacles: Each level presents unique challenges!
Pleasant graphics: Enjoy colorful, eye-catching designs!
Increasing difficulty: Keeps you engaged as you progress!
What are the best online games?