Christmas Lollipop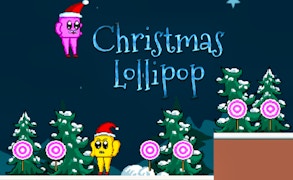 Christmas Lollipop
Description
In Christmas Lollipop, you enter an enchanting, but tricky festive world! This 2D Christmas-themed platformer whisks you off on a mission to accumulate lollipops while navigating a series of challenging obstacles. You'll dodge enemies, leap over spikes, and avoid hazardous saws as you aim for the end-of-level exit door. With eight different levels to explore, this yuletide challenge tests your platforming skills while progressively cranking up the difficulty.
How to play
To move your character through this vibrant world, use the "WASD" or "Arrow" keys. Jump over obstacles with the "W" or "Up" arrow key, and remember, you can perform a handy double jump by pressing these keys twice quickly. Aim to reach the exit door of each level whilst collecting as many lollipops as possible along the way.
Tips and Tricks
Precision is key in Christmas Lollipop. Carefully time your jumps to avoid spikes and saws. Remember to utilise your double jump ability when necessary. Be mindful of your surroundings and watch out for enemies lurking nearby. Collecting lollipops will boost your score, but getting to the exit safely should always be your top priority.
Features
Engaging Platformer: Navigate through multiple themed levels filled with challenges and excitement.
Festive Theme: Immerse yourself in a charming Christmas setting.
Varying Difficulty: As you progress through the levels, prepare for an increase in challenge.
Intuitive Controls: Simple keyboard controls make for easy navigation and game play.
What are the best online games?