Christmas Imposter Run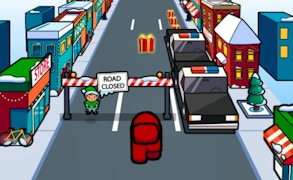 Christmas Imposter Run
If you're looking for a unique blend of running games, skill games and the magic of the holiday season, then look no further than the exhilarating game, Christmas Imposter Run. This addictive and engaging game combines rapid pace running mechanics with a Christmas-themed backdrop for a thrilling gaming experience.
A richly textured run towards the festive season, Christmas Imposter Run is not just another one amongst the crowded world of running games. This action-packed game takes you on an enchanting journey where your agility; quick-thinking, and reflexes are put to test.
The premise is simple yet captivating: it's Christmas time and you haven't prepared any gifts. But instead of hitting panic mode, step into this lively world! Your task? To collect enough gnomes for earning a shield and gather as many gifts as possible while subtly evading the lurking obstacles.
Christmas Imposter Run holds true to its label as one of the best Christmas games. It perfectly captures the spirit of giving and merriment, wrapping it in an exhilarating gaming package. The more gnomes you collect, more protective shields you earn. Every gift gathered counts towards creating that perfect Christmas celebration.
No matter how skilled you are in playing Skill Games, this game promises to push your abilities to their limits. The fast-paced running along with constant dodging from unpredictable obstacles adds an extra thrill element; making it not just another running game but a quest filled with suspense and uncertainty.
In conclusion, whether you're an ardent gamer searching for a riveting experience or someone who just loves anything Christmas-themed, Christmas Imposter Run is worth giving a go. Its unique blend of running, skill-based mechanics and festive backdrop makes it an irresistible gaming treat!
What are the best online games?