Christmas Factory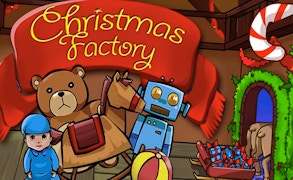 Christmas Factory
Unleash the Santa within you in the stress-busting Christmas Factory, a vividly festive strategy game peaking amongst the most engaging christmas games to emerge this season. This free arcade game brings together elements of a classic Management Games while adding a unique holiday twist to it, making it as addictive as your grandma's Christmas pudding.
The premise is quite simple; you step into the oversized boots of Santa Claus himself and take on the Herculean task of managing an army of diligent elves busy crafting toys for Christmas night. The game's primary objective lies in harnessing your strategic skills to ensure an efficient toy production process while keeping up with the ever-ticking countdown to Christmas Eve.
The graphics are nothing short of stunning, bringing the holiday spirit to life on your screen with attention-grabbing HD visuals that are sure to keep you entertained for hours. Moreover, its easy-to-use interface adds to its charm, ensuring that even the least tech-savvy amongst us can dive straight into managing Santa's toy factory.
The dynamism and intensity make this game stand out. The factory transforms into a culmination point of craziness and stress where gift wrapping seems like an endless challenge. The best part? It's all about strategy. Your task isn't just overseeing the elf workforce but also optimizing their performance for maximum toy output. This refreshing take on traditional restaurant games mechanics makes it one of a kind.
In conclusion, if you're tired of dreary cookie-cutter games and want a fun blend of strategy and holiday cheer, then Christmas Factory has set up the perfect toy-filled escape for you. It brilliantly interweaves exciting gameplay with well-loved holiday themes, making it not only an ideal pastime but also a virtual trip down memory lane into childhood Christmases spent anticipating Santa's visit.
What are the best online games?