Christmas Deno Bot 2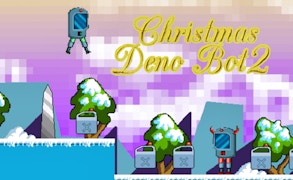 Christmas Deno Bot 2
Description
In Christmas Deno Bot 2, you step into the shoes of the epic sci-fi hero, Deno Bot. Your mission is to navigate through an intense labyrinth filled with enemies and deadly obstacles in order to collect vital fuel containers. With every passing level in this 8-stage immersive 2D platformer, prepare yourself for a tougher challenge as the game's difficulty level incrementally escalates.
How to play
Control Deno Bot using the "WASD" or "Arrow" keys. Develop your skill of double jumping, by quickly pressing the "W" or "Up Arrow" key twice in succession. Your goal is to collect all fuel containers while escaping enemies and traps, eventually making it safely to the exit door.
Tips and Tricks
Master the art of double jump to overcome higher obstacles and evade flying enemies. Be patient and observant, understanding enemy patterns will give you an advantage. Remember, your mission is not just about survival but also about collecting every fuel container.
Features
A high-paced, exciting 8-stage game progression.
Captivating Sci-fi theme with remarkable 2D graphics.
A variety of challenging enemies and intricate traps.
Tactical gameplay involving collection and evasion mechanics.
What are the best online games?