Christmas Deno Bot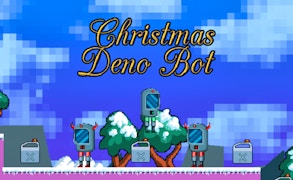 Christmas Deno Bot
Description
In Christmas Deno Bot, you get to control a sci-fi inspired robot, Deno, set in a holiday-themed 2D platformer. This action-packed game revolves around the collection of fuel containers across various levels, all while dodging an array of dangerous enemies. With a total of 8 progressively challenging levels, it features flying robots and perilous obstacles like giant blades and saws. Your objective is to survive and reach the exit door.
How to play
Controlling Deno in Christmas Deno Bot involves using the "WASD" or "Arrow" keys for movement. To perform a double jump, press the "W" or "Up" arrow key twice. Navigate through the game world, collect fuel containers and avoid hazards. Remember that reaching the exit door is essential for progressing to the next level.
Tips and Tricks
To excel in Christmas Deno Bot, time your jumps accurately particularly when avoiding flying robots and deadly obstacles. Utilize your double jump wisely to reach high places or dodge enemies. Always keep an eye on uncollected fuel containers as you make your way towards the exit door.
Features
Engaging gameplay: Provides a perfect blend of action and adventure with its collection and avoidance mechanics.
Diverse Enemies: Face off against flying robots, giant blades, saws, etc., making each level unique and challenging.
User-friendly controls: Easy-to-learn controls with "WASD" or arrow keys for movement and double jump.
Progressively challenging: With 8 levels and an increasing difficulty curve, it offers endless fun.
What are the best online games?