Cheno vs Reeno 2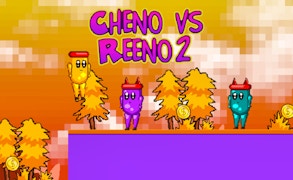 Cheno vs Reeno 2
Description
In Cheno vs Reeno 2, you find yourself in a 2D world of wonder, taking the role of a cute robot striving to gather as much gold as possible. Traverse through diverse landscapes spanning across 8 challenging levels that progressively get tougher. Dodge numerous adversaries, navigate over deadly spikes, and leap to reach the coveted red flag marking the end of each stage. This game is a sequel to the much-loved original Cheno vs Reeno.
How to play
Start your adventurous journey by moving your character using either WASD or Arrow keys. The 'W' or the 'Up' arrow key is also utilized for jumping, while a double press triggers a double jump providing an extra uplift. Avoid enemies and dangerous obstacles while collecting gold coins along your path towards the red flag, signaling the completion of the level.
Tips and Tricks
The difficulty intensifies with each level, so make sure you master the double jump. It can help you overcome tricky obstacles and evade higher flying enemies. Timing your jumps accurately can make all the difference between survival and defeat. Be vigilant about hidden spikes and airborne creatures.
Features
Pleasant Graphics: Engaging 2D visuals add charm to this adventurous platformer.
Addictive Gameplay: With progressing difficulty and diverse challenges, it's hard to stop playing.
User-Friendly Controls: Simple yet effective control scheme makes it enjoyable for all age groups.
Diverse Levels: Each of the 8 levels brings its own unique challenges and adversaries.
What are the best online games?