Catch The Impostor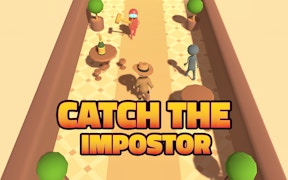 Catch The Impostor
Amid the flood of battle games and gangster games, a new challenger hurtles into the arena – Catch The Impostor. The game beckons all gamer connoisseurs hunting for some high-octane fun. This could arguably be one of the most stimulating and novel fun games you've come across in a while.
This adrenaline-pumping game plunges you into a thrilling chase within an intricately designed museum. Every corner steeped in suspense – a hair-raising cat-and-mouse chase, where you step into the shoes of the museum guard. With your job on the line, there's no room for mistakes. Each impostor caught brings you one step closer to triumph and job security. However, the ticking clock is just as formidable an enemy as our elusive impostors.
Catch The Impostor seems tailor-made for players who love thrilling police games. Unlike other law enforcement simulators, this game hands over a truly unique challenge – catch all impostors before time runs out or lose your job. Fans of Among Us will find familiar ground here with its own twist on the iconic deception mechanics.
The game unfolds over 50 exhilarating levels, each promising its own brand of strategic mind-teasing fun. It's not just about speed; it's how quickly your brain can adapt to diverse situations that makes this game so engagingly addictive.
In conclusion, if you're an aficionado of suspense-filled adrenaline-rush inducing fun games, Catch The Impostor is right up your alley! The twists at every level and the pressure to crack each case within set timelines will keep you hooked for hours on end. Catch The Impostor – where every second counts, and every impostor captured is a victory against time!
Ripogame.com wishes all gamers out there a brilliant gaming experience; go ahead, help museum guards nab those impostors!
What are the best online games?