Cat Lovescapes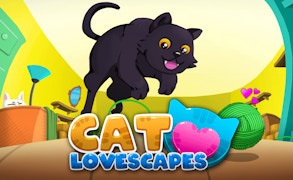 Cat Lovescapes
Description
In Cat Lovescapes, you're an adorable Cat Cupid, guiding a lovestruck Black cat through his journey to find his beloved White cat. You'll navigate Grandma's house, bustling with furry obstacles, while outsmarting her other cats. This addictive point-and-click game takes you through multiple vibrant rooms, each filled with engaging challenges to overcome.
How to play
The goal is simple: guide the Black cat towards his love by successfully navigating him through the rooms. Each room requires strategic thinking and quick reflexes to distract other cats and bypass any obstacles. Point and click to control the Black cat, always aiming for the exit on the right.
Tips and Tricks
Stay observant and make sure to fully explore each room as there are various interactive elements that can aid your escape. Use Cat Cupid's help when in trouble and remember, persistence is key!
Features
Absorbing Gameplay: Over 50 assorted, visually stunning rooms with detailed graphics and realistic sound effects.
Variety of Characters: Encounter a range of unique cats with distinct personalities along your journey.
User-friendly Controls: Easy point-and-click mechanism makes it accessible for everyone.
No Internet Required: Enjoy this charming adventure offline anytime, anywhere!
Rising Difficulty: As you progress through the game, levels become increasingly challenging.
What are the best online games?