Cat Gunner vs Zombies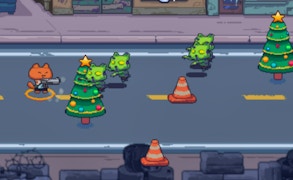 Cat Gunner vs Zombies
Welcome to the stunning and virtual world of Cat Gunner vs Zombies, a gripping game that seamlessly merges the fun of cat games with zombie games, gun games, and battle games. Experience an adrenaline-fueled adventure as you navigate through the once-peaceful cat city that now lies infested with zombie cats due to a deadly biochemical pollution.
As you commence your journey in this game, you find yourself donning the role of a brave cat agent seeing firsthand how these once cute and cuddly feline creatures have morphed into terrifying zombie cats ready to bring down their own city. And it's up to you, the player, to defend the cat city against this wave of rotten furballs.
The game is not just about firing bullets; it's about surviving against overwhelming odds. With zombies popping out from every nook and cranny, the sheer number of zombie cats will test your reflexes and shooting skills to their maximum limit. The challenge doesn't stop there; each level increases in difficulty forcing you to constantly adapt your strategy.
Beyond its solid gameplay mechanics, Cat Gunner vs Zombies stands out for its artful graphics that depict a hauntingly desolated cityscape with a cartoony charm. Moreover, the engaging soundtrack complements the nerve-wracking action sequences and enhances immersion.
All these factors make Cat Gunner vs Zombies an irresistible treat for lovers of cat games, zombie games, gun games, and battle games alike. Be prepared for endless hours of action-packaged gaming as you tackle wave after wave of terrifying yet oddly adorable zombie cats. How many levels can you survive?
What are the best online games?