Cannons and Soldiers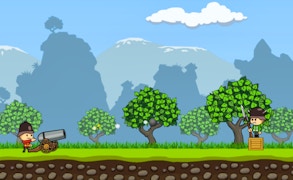 Cannons and Soldiers
If you're a gamer with a proclivity for war games and clicker games, then stop right here. I present to you the firecracker of a game that is-Cannons and Soldiers. Like an adrenaline shot straight to the heart, this war-focused clicker game will transport you to the battlefield with the mission to annihilate your opponents.
The premise is initially simple, deceivingly so. You are tasked with dispensing devastating volleys, determining both the strength and angle of your cannon shots. The enemies are ready, waiting in their fortresses, seemingly out of reach. It is in such moments that this game reveals its true face: it's not simply about clicking and shooting, it's an exercise in calibrating physics and strategizing your moves against the enemy.
The real beauty of Cannons and Soldiers lies in its implicit call for efficiency; not just any shot will do. The lesser shots you expend to decimate your foes, the superior you prove yourself. It's a battle cry for precision — an echoing reminder that in war, resources are scarce and every bullet counts. All this makes this game an addictive experience among other shooting games.
In summation, Cannons and Soldiers triumphs as a premier choice in war-themed clicker games genre. Evoking an explosive mix of strategy and precision based gameplay, it demands both your concentration and strategic prowess. This cleverly crafted mélange of war strategy and clicker mechanics is set to ignite your gaming desires like none other.
If you have a voracious appetite for shooting action combined with mind-boggling techniques coming into play in each level then Cannons And Soldiers should definitely be your next go-to game!
What are the best online games?
TAGS