Business Tycoon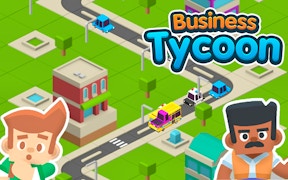 Business Tycoon
Description
Experience the exhilarating world of entrepreneurship in Business Tycoon. Strategically buy, manage and improve businesses to maximise profits. With over 80 tasks to overcome, your journey towards the financial pinnacle is demanding yet rewarding. Through the help of advisors, your character can hone skills and competencies. The high-quality graphics and animations add a creative edge to this business simulation game.
How to play
The primary objective in Business Tycoon is amassing wealth through smart business decisions. Tap to purchase businesses and upgrade them for increased profits. Complete diverse tasks to earn rewards and develop your character's skills with the help of experienced advisors. The game continues to generate profits even when offline, ensuring constant progress in your venture.
Tips and Tricks
Invest wisely as business acquisition and upgrades are pivotal for your success in Business Tycoon. Regularly complete tasks as they offer rewarding benefits. Utilize your advisors wisely; their guidance can significantly increase your earning potential and skillset development.
Features
Makes use of strategic business decisions for progression.
A plethora of tasks — over 80 — to keep you engaged.
A unique idle game mechanism that generates profit offline.
A vibrant graphic display backed by slick animations.
An interactive skill-building system aided by advisors.
What are the best online games?