Burnin Rubber Multiplayer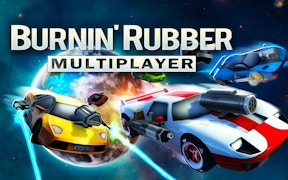 Burnin Rubber Multiplayer
Prepare to immerse yourself in the thrilling world of Burnin Rubber Multiplayer, an exhilarating blend of racing, multiplayer, and shooting dynamics that promise an adrenaline-pumping gaming experience. If you're a fan of car games, appreciate heart-pounding driving games, or get a kick out of explosive battle-games, then this game is unequivocally for you.
The main crux of Burnin Rubber Multiplayer hinges on driving high-octane vehicles equipped with deadly weapons. The aim? To hunt down your enemies, and outwit them with your superior driving and shooting skills. The thrill lies not only in the chase but also in the electrifying fight, making it the perfect battleground for those seeking to prove their dominance.
Fresh to the game is the innovative and strategic U-turn move. This feature allows players to surprise their adversaries, adding an extra layer of unpredictability to every match. The element of surprise never gets old in this thrilling game of tactics and speed!
Apart from its pulse-raising gameplay, Burnin Rubber Multiplayer also offers a plethora of awesome cars just waiting to be unlocked. Each car offers unique characteristics and capabilities, encouraging players to constantly adapt their strategies. Meanwhile, the explosive weapons are a significant game-changer, taking every battle to an explosive new level.
In conclusion, Burnin Rubber Multiplayer amalgamates elements from various genres such as racing, shooting, and multiplayer capabilities into one incredible gaming cocktail. Its compelling gameplay mechanics backed by an impressive array of vehicles and weapons make it a game that offers countless hours of fun and excitement. So buckle up, grab your controller, and get ready for an unforgettable ride with Burnin Rubber Multiplayer. It's time to burn rubber and leave your friends in the dust!
What are the best online games?