Burnin Rubber 5 XS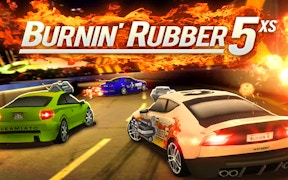 Burnin Rubber 5 XS
Are you ready to feel your heart pounding like a piston in an overcharged engine? Make way for Burnin Rubber 5 XS, the explosive blend of racing and shooting game set to push your adrenaline levels into overdrive. A relentless onslaught of car-games, battle-games, and driving-games that will have you on the edge of your seat from start to finish.
The game propels you into a world of rubber-burning mayhem where speed and accuracy are your best defenses. The unique combination of racing mechanics with intense shooting gameplay offers an electrifying experience not found in any other race-shooter hybrid. As you steer through dramatic tracks, battling rival racers with an arsenal of high-powered weaponry, the legend of the ultimate racing mercenary awaits your claim.
Burnin Rubber 5 XS is a veritable treasure trove full of secrets waiting to be discovered. With every milestone reached and challenge beaten, new cars and weapons can be unlocked, each more thrilling than the last. Your hard-earned cash can be spent on upgrading these machines of destruction, ensuring no two games ever feel alike.
Without a doubt, Burnin Rubber 5 XS stands head and shoulders above other gaming options in the car-games category. It takes the essence of battle-games and infuses it with high-speed driving elements to form an unparalleled gaming experience. If speed thrills and battles give you chills, then this game will be like a shot of nitrous oxide straight into your gaming veins!
Brace yourself for the ride – or should we say fight? – of your life as you race towards victory in Burnin Rubber 5 XS-the definitive adrenaline rush for any gamer worth their salt! Don't just play the game, live the explosive lifestyle of a racing mercenary. Time to strap in and get ready to burn some rubber!
What are the best online games?