Bubbles Clicker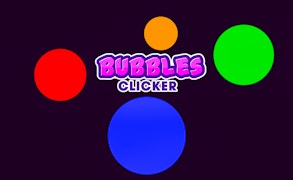 Bubbles Clicker
Description
In Bubbles Clicker, enter a realm of floating bubbles that you must pop before they drift away. The game centers around intense clicking action and strategic speed. Each bubble you pop increases your score, but the challenge lies in not letting any bubble escape your attention. The vibrant colors and smooth mechanics make this game an addictive delight for players who enjoy fast-paced gameplay.
How to Play
Playing Bubbles Clicker is as simple as tapping or clicking on the floating bubbles. But remember, speed is key! You must click fast enough to pop all bubbles before they fly off screen, but also wisely manage your clicks to avoid any lost opportunities. As your score grows, so does the speed and number of bubbles - escalating the thrill of the bubbly chase!
Tips and Tricks
Finding it tough to keep up with the flying bubbles? Remember to prioritize larger clusters that give more points but also dissipate faster. Also, keep an eye on random power-ups that appear within some bubbles; they can significantly boost your score or slow down the bubble flow.
Features
Pure Clicker game: Speed and strategy are all that matter.
Addictive gameplay: The increasing challenge fuels desire for higher scores.
Vibrant design: Eye-catching visuals add to the enjoyment.
In-game power-ups: Random boosts keep gameplay interesting and unpredictable.
What are the best online games?