BTS Shark Coloring Book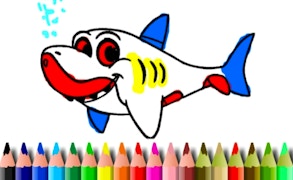 BTS Shark Coloring Book
In the delightful world of Games for Kids, the BTS Shark Coloring Book emerges as an inventive fusion of drawing games and coloring games, sparking creativity. This enchanting platform is designed to not just entertain but educate, making it a vibrant addition to the realm of animal games.
Dive into an underwater world teeming with friendly sharks awaiting your artistic touch. As one of the most exciting shark games, BTS Shark Coloring Book offers an opportunity for children to unleash their inner artist, encouraging them to color and personalize a plethora of cute sharks in their unique style.
This game is more than just fun—it's a magical journey through the depths of the sea, where every shark becomes a canvas for imagination. Each stroke adds life to these oceanic creatures, introducing kids to the fascinating world of colors and stimulating their creativity.
The interface is user-friendly, making it a breeze for little ones to navigate through the collection of sharks and an array of colors at their disposal. The ease of gameplay ensures that players can focus on what truly counts—the joyous experience of painting.
In addition, there's more than meets the eye as it subtly submerges young minds into learning about different types and traits of sharks—making it educational while being loads of fun!
The vibrant palette not only brings life to the adorable sharks but also makes this game visually appealing. This colorful spectacle keeps kids engaged, thus ensuring they spend time learning while playing.
In conclusion, BTS Shark Coloring Book stands tall among other online free games—providing children with endless hours of fun-filled learning. Who knew coloring sharks could be so entertaining?
What are the best online games?