Break the Ice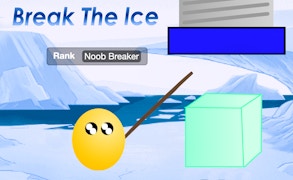 Break the Ice
Description
Enter a chilling world with Break the Ice, a thrilling action game that tests your skills and timing. Your mission? Shatter an ice block continuously non-stop. Sounds simple, but with each crack, the intensity grows. Will you successfully break the ice or succumb to the pressure? It's a frigid fight against time that only the fastest clickers will survive!
How to play
The game features simple controls challenging both speed and precision. To initiate an icy assault, use either "Spacebar" or your mouse's "left-click" option. When the block's health points (HP) bottom out, press 'C' to reset. You can also collect coins during gameplay by pressing 'S', either before or after depletion of the ice cube's HP. Be quick to react!
Tips and Tricks
To master Break The Ice, efficient and strategic clicking is key. Make sure to collect coins by pressing 'S' at crucial times; before depleting of HP can offer an advantageous start in future rounds. Stay focused on HP bar and time your resets ('C') well to ensure sustained gameplay.
Features
An intuitive interface that enhances real-time action.
Fast-paced game mechanics, perfect for skill-games enthusiasts.
A coin collection system adding extra thrill.
Simple controls ensuring a smooth gaming experience.
What are the best online games?