Bowman Game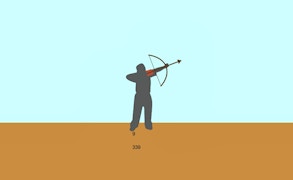 Bowman Game
Welcome to the ethereal world of Bowman Game, an action-packed experience that redefines the genre of archery games. This exhilarating title gives you, the player, a chance to step into the shoes of a virtual archer; offering an immersive, detailed landscape that pulls you into its realm with impeccable precision.
The Bowman Game is also one of those rare 2 player games designed to deliver nonstop excitement with friends or random opponents from across the globe. You're not just firing arrows blindly here; you're strategically planning your attacks, predicting trajectories, and adjusting for virtual wind speed and direction. How's that for a challenge?
The element of aiming your bow and launching your arrows towards your adversary adds an additional layer of strategy to the gameplay. The tension ripples through every game session as you wait in anticipation for that perfect moment to strike. Each arrow launched bears with it a mixture of anxiety and exhilaration, much like a chess move in mid-air.
The Bowman Game does not only score points with its intense gameplay but also captivates with its stunning visual effects - bold colors cut through the misty backdrop, making each arrow shot seem like fireworks on a silent night. Despite being an archery-focused game, it encompasses elements of action, strategy, patience and precision.
In conclusion, Bowman Game stands as a testament to what modern day archery games can achieve when they dare to push boundaries. Whether you're looking for competitive skirmishes in 2 player games, or simply wish to enjoy some quiet solo sessions sharpening your archer skills, Bowman Game is sure to be an unmissable addition to your gaming library.
What are the best online games?