Bottle Target Shooting 3D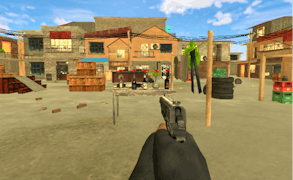 Bottle Target Shooting 3D
Immerse yourself in the adrenaline-pumping world of Bottle Target Shooting 3D, an evolution in the realm of gun games and sniper games. Reviving the timeless thrill of target shooting, it introduces a real new bottle shotter trend that's making waves in the epic epoch of 3D games.
This game puts your skills to the ultimate test, easily qualifying it as one of the prime Skill Games on the market. The objective is simple yet addictive – break as many bottles as you can. But don't let its simplicity deceive you, for each stage progresses with mounting difficulty levels and increasingly challenging environments.
The simulation features a rich array of environments, adding a level of realism that elevates this game way above its peers. They're so vivid you can almost feel the crunch underfoot as you smash those bottles with professionally simulated bullets! With every broken bottle, you're not just earning points - you're mastering the art of precision, patience, and timing.
The real icing on this virtual cake is its option to shatter your targets using stones - a nostalgic nod to old school slingshot games. The thrill doesn't get more 'real' than this in bottle shot expert simulator games.
So, lock and load gamers! Put those sharpshooting skills to work in this highly engaging bottle shotter game. Whether your weapon is bullets or stones, Bottle Target Shooting 3D promises an immersive experience and enjoyment that will keep you glued to your screens. Step up your shooting game with Bottle Target Shooting 3D.
What are the best online games?