BoomCraft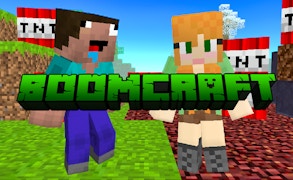 BoomCraft
Few games have the power to captivate the gaming community as BoomCraft has done. Drawing a fine line between pixel-games and battle-games, this action-packed multiplayer experience is among the top offerings in the genre of two-player-games. It's a rare gem that takes you on an exhilarating journey into a realm that mimics popular games like Minecraft, and then adds its unique twist.
A classical tale of survival, BoomCraft transforms a regular play session into a thrilling competition. Its premise is simple yet addictive - survive and conquer in a TNT-laden Minecraft world. The game masterfully combines navigational expertise with calculated demolition, where emerging victorious means overcoming your friend in strategic combat.
What sets BoomCraft apart from other pixelated games-like-Minecraft is not merely its explosive gameplay, but its environment versatility too. Four different maps are at disposal to wage wars against your friend. Each map brings unique challenges and demands varied tactics, ensuring every battle offers a fresh experience.
This game indulges its players in an immersive experience of strategy making and survival tactics. The ability to strategize in different battlefield terrains enhances not just the thrill but also the replay value of BoomCraft.
In conclusion, BoomCraft isn't just another addition to the massive library of two-player games or games-like-minecraft; it's a dynamic platform where pixel-game fans can indulge in intense battle-game scenarios. It's a must-play for those who appreciate high-octane battles wrapped in vibrant pixel aesthetics.
What are the best online games?