Blocky Warfare The Aweper Zombie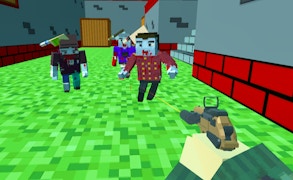 Blocky Warfare The Aweper Zombie
Dive into a unique blend of explosive gunplay and relentless zombie action in the audacious Blocky Warfare The Aweper Zombie. This game is an impressive amalgam of several game tags, encompassing gun games, zombie games, battle games, pixel games, and survival games displaying the eclectic genius of its creators.
The game offers a spectacular multiplayer experience with real players around the globe. The thrill of strategizing and coordinating with teammates to survive against dynamic, ever-present threats amplifies the game's appeal making it an irresistible choice amongst its contemporaries.
A significant draw in this captivating gun-zombie game is its collection of 24 locked guns. Each firearm boasts high-quality graphics and cool attachments that disperse an adrenaline rush unprecedented in other pixel games. Whether close encounters or distant take-downs, the vast gun arsenal ensures every player finds their preferred weapon.
The setting and maps are crafted intricately to keep players engrossed. The feature of block and pixilated maps adds a nostalgic hue to the modern survival gameplay reminding all gamers of their old-school arcade days. But nostalgia is not all it has to offer; players can also immerse themselves in an ice world pixel map bringing awesome effects that leave you stunned and bewitched.
In conclusion, Blocky Warfare The Aweper Zombie is a perfect offering for gamers seeking a blend of genres ranging from thrilling battle games to chilling zombie games, where survival is as crucial as firepower. With its diverse weaponry, engaging multiplayer mode, challenging survival aspects, and striking block graphics, this game promises a captivating gameplay experience to remember.
What are the best online games?