Blocky Squad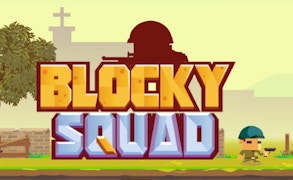 Blocky Squad
Welcome to the thrilling world of Blocky Squad, a pulsating amalgamation of action-packed war games, engaging management games, and strategically intriguing gun games. Immerse yourself in an epic war narrative and experience an adrenaline rush like never before!
In the heart of Blocky Squad, you'll find yourself at the helm of your own battalion, poised to steer it towards survival amidst a brutal war. The game is a masterclass in weaving an engaging narrative that grips you from the start, and keeps you on your toes with its strategic depth and tantalizing unpredictability.
The action sequences are pure gold for those who crave gun games with a tactical twist. Manage your ammunition, choose your engagements, and watch as your decisions reshape the dynamics of battle.
Among all the war games out there, Blocky Squad sets itself apart by introducing elements of management that enhances the overall gameplay massively. Building your own army is not just about recruiting more soldiers; it's about bringing together a team that complements each other's strengths and makes up for each other's shortcomings. You're not just a soldier in this game - you're a leader.
The robust mechanics offer plenty of strategic options to seize victory from the jaws of epic battles. The taste of victory while liberating territories is embellished by smart tactical moves and management skills. In essence, Blocky Squad deftly combines elements from both war games and management games, resulting in an exciting gameplay experience like no other.
In conclusion, if you crave high-stakes action combined with strategic depth in your gaming experiences, then look no further than Blocky Squad! Dive in today and take charge of your battalion to survive epic wars!
What are the best online games?