Blocky Shooting Arena 3D Pixel Combat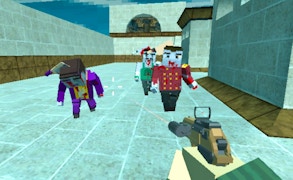 Blocky Shooting Arena 3D Pixel Combat
Get ready to immerse yourselves in the highly addictive world of Blocky Shooting Arena 3D Pixel Combat. As a thrilling entrant in the realm of pixel games, this game impeccably combines elements from battle games, gun games, zombie games, and survival games to provide an experience unlike any other.
With its riveting multiplayer option at the forefront, you're given the opportunity to square off against formidable AI opponents including soldiers and unnervingly realistic zombie pixels. A lineup of five diverse game modes guarantees fresh excitement at every turn. Whether you're into classic gun game, tense survival mode, or dynamic Team Deathmatch (TDM) and Deathmatch (DM), there's something to cater to your gaming taste.
The fun doesn't stop when your friends are offline. Blocky Shooting Arena 3D Pixel Combat boasts a whopping 40 levels for offline play. So, put your strategy and shooting skills to test as you navigate through this challenging pixel combat environment.
In conclusion, if you are yearning for an exciting fusion of battle games, gun games, or even zombie and survival games all wrapped up in pixelated glory, then Blocky Shooting Arena 3D Pixel Combat is your go-to. Its free-to-play design enhances its appeal further, ensuring fun is never hindered by a price tag. Ready your guns and let the blocky battle begin!
What are the best online games?