Blocky Combat Strike Zombie Survival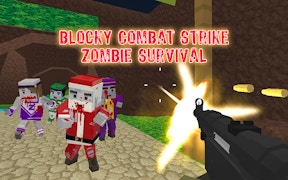 Blocky Combat Strike Zombie Survival
Blaze your way through the undead in Blocky Combat Strike Zombie Survival, a pixelated feast of action and drama that stands out in the realm of zombie games. This game masterfully blends elements of battle games, and gun games to create an adrenaline-fueled experience that will capture your heart and pit it against hordes of pixelated zombies.
Beyond its blocky façade, this game is anything but simple. Players must utilize their survival instincts honed from other survival games. Every corner turned could lead to a surprise attack, every opened door might reveal a ravenous horde, and every quiet moment could be the calm before a storm of undead.
In this thrilling iteration of pixel games, Blocky Combat Strike Zombie Survival offers an impressive array of weaponry to dispatch your foes. It's time to stop fearing the dark and start making them fear you instead.
If the single-player modes don't satiate your voracious gaming appetite, you can also plunge into multiplayer chaos where its not just undead you have to worry about, but other players too. So strap-up, gear-up, and get ready to become the ultimate zombie slayer in one of the most talked-about zombie survival games available today.
Blocky Combat Strike Zombie Survival, with its intense gameplay and charming graphics, will steal a place in every gamer's heart who is fond of zombie games, survival games or any quality shooting game. Don't miss this bullet train ride into a post-apocalyptic landscape filled with peril and memorable moments!
What are the best online games?