Block Craft Spot the Difference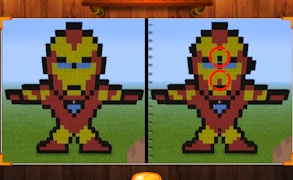 Block Craft Spot the Difference
Welcome to your newest digital playground with Block Craft Spot the Difference, a blocky, brain-teasing odyssey that tests your sight and memory nestled within the artistry of block games and Minecraft games! Among the plethora of games for kids, this puzzle game stands tall as an engaging blend of memory games and brain games.
Block Craft Differences invites you to delve into a striking, pixelated world where keen vision and sharp cognition reign supreme. In this free online game, each level presents two similar images bursting with vibrant colors and intricate details, compelling you to spot the variations. With every difference you unearth, you'll find yourself more deeply absorbed in this immersive world.
This stimulating challenge not only enhances your observational skills but also nurtures memory retention. As you progress through increasingly complex levels of this enchanting block game, it will inevitably push the boundaries of your innate detective skills. The toil is worth it; completing all levels will leave you with an overpowering sense of achievement.
What separates Block Craft Differences from other Minecraft games is its universal appeal. While primarily categorized under games for kids, adults too will find themselves lost in this mesmerizing brain game that's as addictive as it is entertaining.
The beauty of Block Craft Differences lies not just in its visual treat but also in its ability to test your cognitive abilities subtly while providing oodles of fun. The game's charm lies in how it keeps you hooked by constantly challenging your puzzle-solving prowess.
Embark on the Block Craft adventure today! Enjoy Block Craft Differences, flex those brain muscles, fine-tune your memory, and immerse yourself in the thrill of endless discovery in one of the best online games available for free!
What are the best online games?