Biker Battle 3D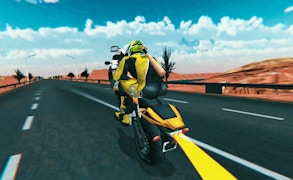 Biker Battle 3D
If you've been searching for the ultimate confluence between motorcycle games, driving games, and battle games, then look no further! Biker Battle 3D is here to fulfill your wildest gaming fantasies with an extra dose of adrenaline. This iconic game subtly blends the grit of dirt bike games with the thrill of a high-speed chase and a ferocious battlefield.
As you step into the world of Biker Battle 3D, you'll quickly realize you're not just investing in another trivial game but enrolling yourself in a virtual survival school. Your central task? Neutralizing enemies coming from every direction while skillfully maneuvering your badass chopper. In this world, your super bike is not just a vehicle, it's your weapon, your shield, and your key to supremacy.
The game offers a captivating combat experience where every ride becomes a fight for survival. The intricate weaving of action and strategy will challenge even the most seasoned gamers. You're not just riding here; you're locking horns with rivals, mastering controls, exploiting physics, and surviving in an unforgiving road-war ordeal.
Biker Battle 3D is generous with upgrades too! With collected gold, gamers can invest in new skins, superior weapons and unlock powerful abilities to gain an edge over their antagonists. The possibility to unlock new chopper bike models adds another layer of engagement to this riveting action game.
In conclusion, Biker Battle 3D serves up an electrifying cocktail of rapid-fire action and nail-biting tension that keeps gamers on the edge of their seat from start to finish! It's time to strap on your helmet, rev up that engine, and plunge into this exhilarating fusion of motorcycle mayhem and road rage!
What are the best online games?